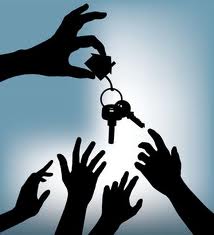 Are Sellers in the Driver's Seat?
Maybe yes- but for sure the Seller has greatly improved their standing- even since November 2011. Maybe not exactly "bidding wars"- but multiple offers have again become commonplace in  neighborhoods from Hancock Park to Malibu in all price ranges.


Housing affordability is at an all-time high-due to prolonged all-time low interest rates. There are qualified Buyers out there- and they are all complaining about lack of  inventory.
So : stop waiting on the sidelines-
        get rid of all that junk-
        throw on a new coat of paint-   and CASH IN! 
---