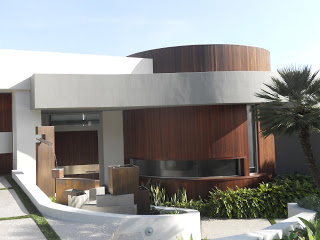 Rounded forms and curvilinear shapes are beginning to dominate the most expensive custom architectural residential designs like this beauty listed for Sale in the Doheny Estates area of Los Angeles for 15 million.
Construction costs are much higher when you do not build straight lines or 90-degree angles; but the resulting spaces appear very elegant. This was seen in upper end construction in the 60's and 70's  and then previously in 40s &50's deco design.
In the late nineties and early 2000's I noticed some remodels eliminating those expensive and gracful curves in favor of strict geometric angles and square corners. I never could understand why. Now there seems to be a reversal of that mode and for those who want to pay a premium, round is in!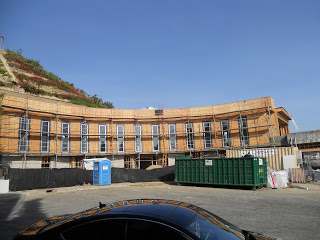 Under construction now, also in Doheny Estates. this entire enormous facade is being constructed on a curve that echoes the cul-de-sac where it is located.
---