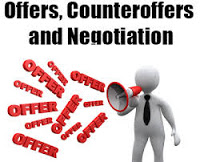 Don't Count Your Chickens………
In a Low Inventory market multiple offers are commonplace.  
But Buyers need to know that even if your offer is received and countered by the Seller as a Sole Offer, during the process another offer could come in that is of more interest to the Seller.  

If that occurs, the Seller has several options:

1]  Replace their Single Counter Offer to you with a 
          Multiple Counter Offer.

2] Wait until their counter offer to you expires before responding to the
     new offer. 
  If you accept their counter, it's game over- 
  But if you counter any provision of their offer, they can ignore your counter.

3] Cancel their counter offer to you, and  Accept the New Offer.


So what should you do? 
The obvious way to eliminate this potential problem is to respond immediately
to any counter offer..
Even if the Seller has given you 3 days, do not wait to respond. Same day is best.

A Buyer is not more likely to get a favorable price by delaying his response.
---