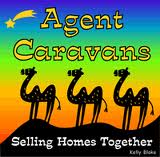 The local Board of Realtors  organizes for its Member/Realtors a chance to view listings at a special Open House. This is known as "Broker Caravan". 
The goal is to provide Realtors an opportunity to preview listings for their Buyers or just to keep informed about the marketplace without causing inconvenience to Sellers and Listing Agents.
In this area, the time designated is every Tuesday from 11:00am until 2:00pm. During these hours, properties are held "OPEN" in the same manner as on Sundays. 
Although these are not advertised as "Public Open Houses", in almost all cases any Potential Buyer or interested party is welcome to come in. You should plan, however, to identify yourself as a "non-Agent" to the Realtor who is hosting the Open.
Typically when a Property is new to the market, the Listing Agent will make a special effort to hold it Open on Tuesdays. A Listing Agent may however, organize an Open House on any day or hour that the Agent may consider beneficial. Always check for dates and exact hours if there is a specific property that interests you.
Please feel free to contact me anytime for a List of Open Houses in any area that interests you!  424-249-7170
---